Flying Around Ophelia - Archives 2006-2009
Also See: Flying Around Ophelia Current Pages
Celebrating Grass Roots Flying and Fun at and around Federhart-Ophelia STOLport - VA99 - on Virginia's Northern Neck
Added 6/5/10 Updated 9/12/13. Click on images for a larger view.
November 6, 2009. Donald and Wanda Goodman visit in their award winning Stinson 108-3.

February 5, 2009. On the takeoff roll, the tail of the Chief is up. With the big wing, it gets off the ground quickly. With 65 HP, the rate of climb is less hurried. Photo courtesy of Mike Roe.

December 4, 2008. Landing to the south, John Federhart brings his Beechcraft in over the wires. This is a vintage 1952 C35 Bonanza. I took this photo from my backyard. Boy, do I love this!

December 4, 2008. On a warm day in December, John Federhart taxis by our house in his Bonanza. This photo was taken before we started on our hangar.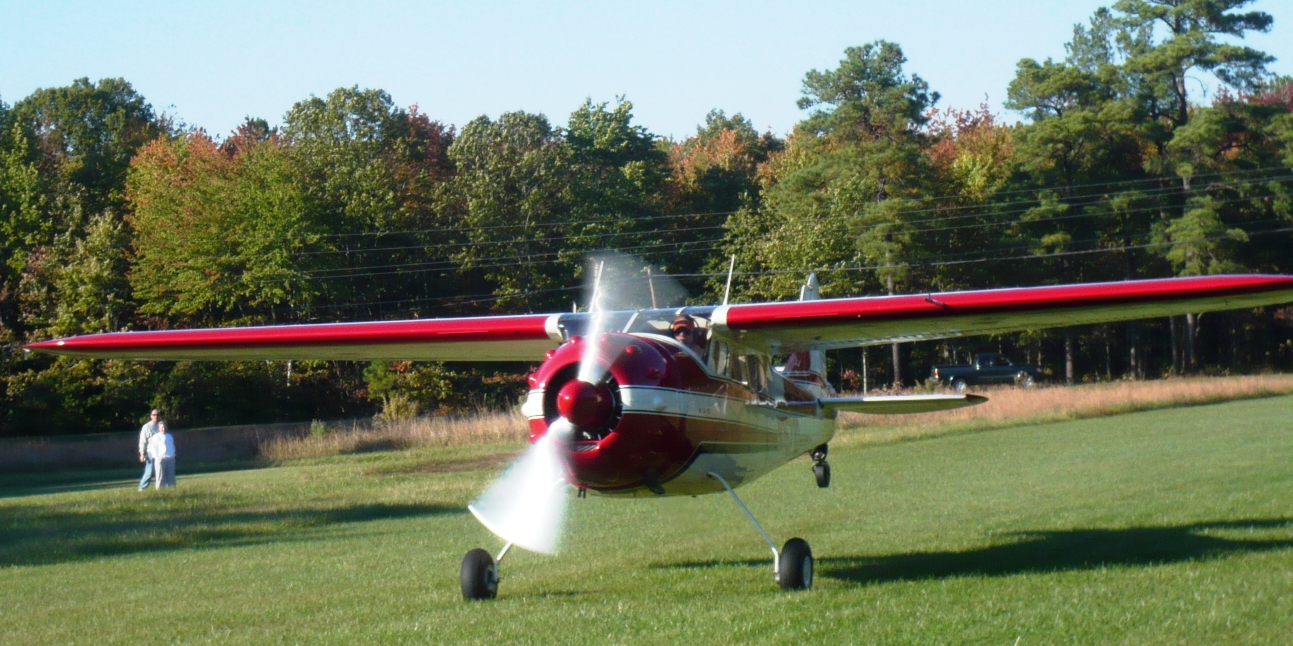 October 26, 2008. Stan Sweikar is a regular visitor to VA99 in his award winning 1952 Cessna 195. Though the same vintage as the Bonanza pictured on this page, the 195 represents a very different design approach. Here, Mike and Dee Roe watch Stan take off after a visit.

October 25, 2008. Photographed from the window of my Chief, Cockrell's Marine Railway is located about a half mile off the south end of the runway at VA99. Since 1929, Cockrell's has been providing services to the watermen of the Chesapeake Bay area. Andy Cockrell and his crew provided outstanding help with the installation of the Hydroswing door on my hangar.

April 17, 2008. John Federhart taxis out for takeoff. I had the opportunity to fly this Cub a couple times. It performed nicely with 85 horsepower. John has since sold the Cub and it is now being used for flight instruction by Aviators Unlimited in Abington, Virginia.

January 7, 2008. My good friend Rob Craig arrives at VA99 in Cessna N35540. Rob was visiting during the early stages of construction of our house, and flew in from Frederick, Maryland (KFDK), where we once had adjoining hangars. N35540 was our club plane, and we shared numerous flights in this reliable bird, including one flight to Sun 'N' Fun. Rob is now a partner in another C-172 and is building a Van's RV-4.
October 18, 2006. Just a short flight to the west is Jett Airpark, another residential private airstrip. The designator is 2VA1. Lots are available. It would take more than a sharp eye to know there is a yellow Stinson sitting beside the runway.
Back to the main Federhart-Ophelia StolPORT page.
Back to the Hangar 9 Aeroworks Main Page