Stinson 108 Alternator Conversion
New 7/15/00
Updated 5/10/04
Click of photos for larger image.
Joe Kendzicky has installed the Stan Bedford alternator conversion on his Stinson 108 in 1999. This conversion uses an automotive type alternator in place of the generator. There are also provisions for the addition of a vacuum pump driven off of the alternator, though Joe has not done this (yet). Cost (at that time) for the alternator was $495 and for the alternator with vacuum pump pad about $750. Though this conversion was STC'd at one time (using a similar but different configuration), Joe's installation required a field approval on a 337. Below you will find photos of the installation and links to some of the supporting documentation.
The original conversion is not currently available from Mr. Bedford. It was reported in mid-August of 2002 that Stan was working on a deal to sell the conversion to a firm in Texas. In January, 2003, Eddie Stewart of Franklin Cylinder Service in Oklahoma reported this on the Yahoo Stinson mailing list: "NEW alternators for the Franklin will be available possibly as soon as April or May 2003. A major aircraft parts manufacturer has bought the "Bedford" alternator and currently has one on the test stand running to get it STCd and will make a production run as soon as approval is signed off. I will keep everyone posted as info is made available to me . At this time a price or distributor has not been announced." I will add updated information here as soon as I am aware of it, but as of April, 2004, it looks like the effort to make the alternator conversion available has stalled. However, it was reported in May, 2004 on the ISC correspondence page that Stan has developed a new conversion and that Bruce Kown of Classic Aire, Inc. is the best contact for information about the conversion. See my Stinson Links Page for contact information for Bruce Kown.
One additional note: Since the vacuum pump is driven off the back of the alternator, a failure of the drive coupling to the alternator means both the alternator AND vacuum system fail - not a pretty scenario in IFR conditions. For this reason, some advocate good old-fashioned venturis as a more reliable vacuum source.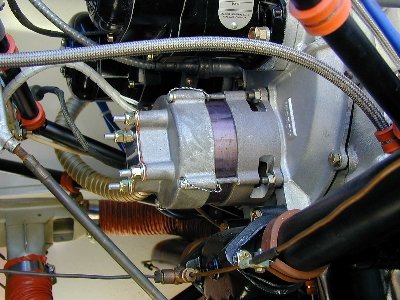 The alternator as viewed from the passenger side (left) and the pilot side (right).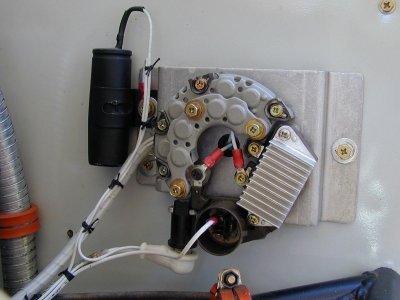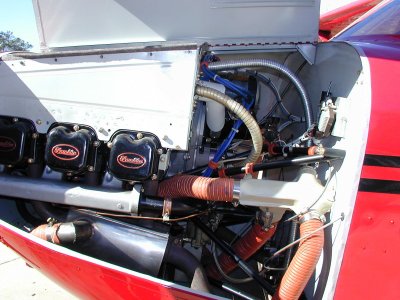 The voltage regulator (left) and Joe's very sanitary engine installation (right).
Supporting Documentation
Back to the Stinson Main Page
Back to the Hangar 9 Aeroworks Main Page