Aeronca Aircraft Photo Gallery
Added 6/23/00
Updated 1/13/16
Here are some photos of nice Aeronca's from around the world.
(Click on the photos for a larger version.)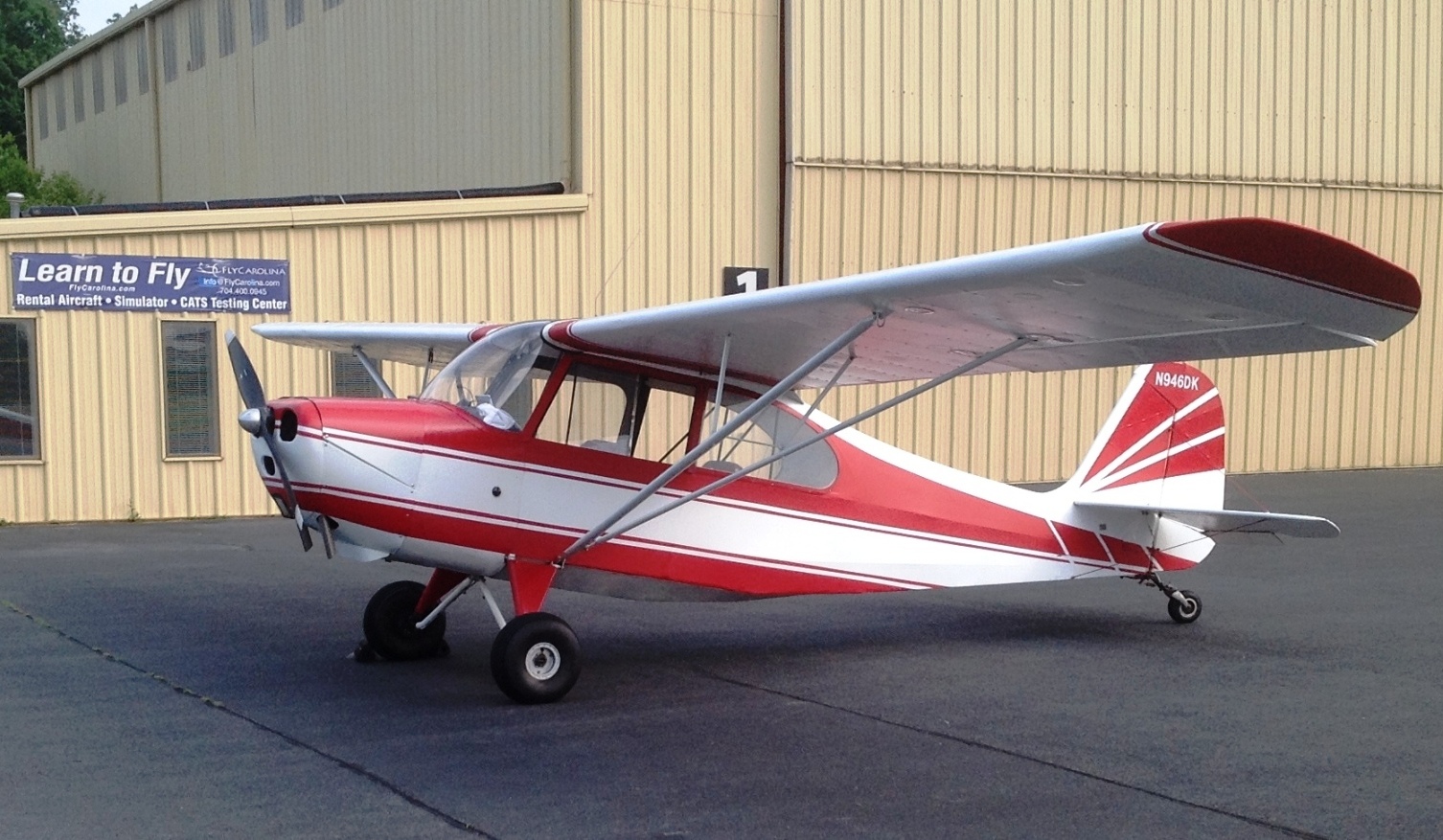 January 13, 2016. Dick Kruse sent this photo of his 7AC Champ. It is based at Charlotte-Monroe Executive Airport, Monroe NC.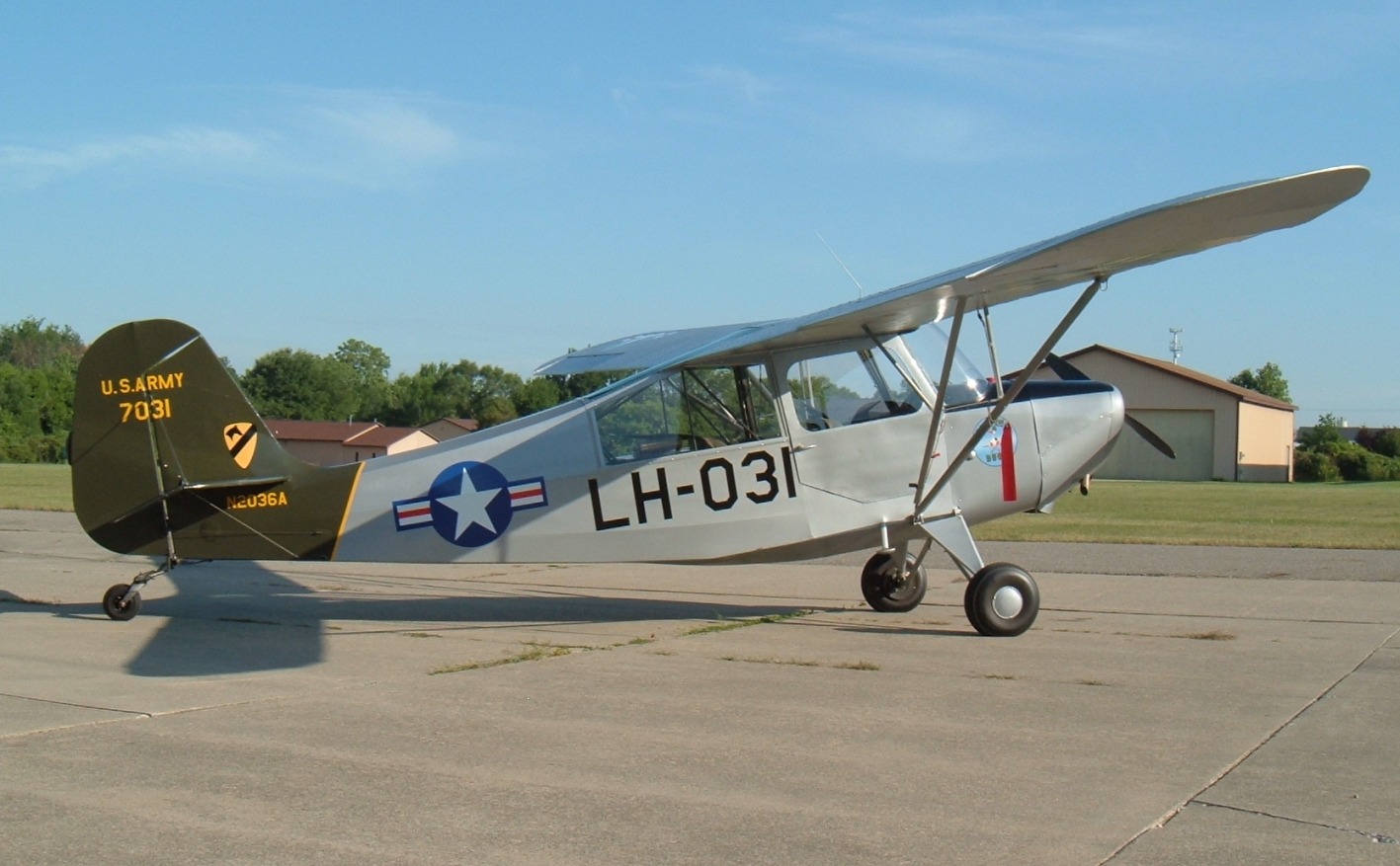 October 15, 2015. Dave Cunningham sent this photo of the L-16 he restored. The airplane went to the New Jersey National Guard in 1947 from the Aeronca factory in Middletown, Ohio, then to the Vermont CAP until the mid sixties. It is based at Flint, Michigan (3DA).

April 28, 2015. Kevin Winters of Fort Mill, South Carolina, sent this photo of his freshly restored Aeronca 7AC, N1579E. Kevin keeps it at York Airport (01SC), York, SC. It was restored by Woods Aviation in Mount Olive, North Carolina. Many photos of the restoration of N1579E (as well as other projects) can be seen at the Woods Aviation Website at http://www.woodsaviation.net/#!completed-projects/ctta. If this Champ looks familiar, the paint scheme is identical to the one on my Champ, N1642E, and that scheme was adapted from the scheme used on the later Aeronca 15AC Sedans. I provided measurements from my Champ to Kevin so that his restorer could copy the paint scheme. I must give Frank Isbell credit for originally adapting this paint scheme to the Champ when he restored N1642E years ago, As my neighbor said, "Frank hit the nail on the head...".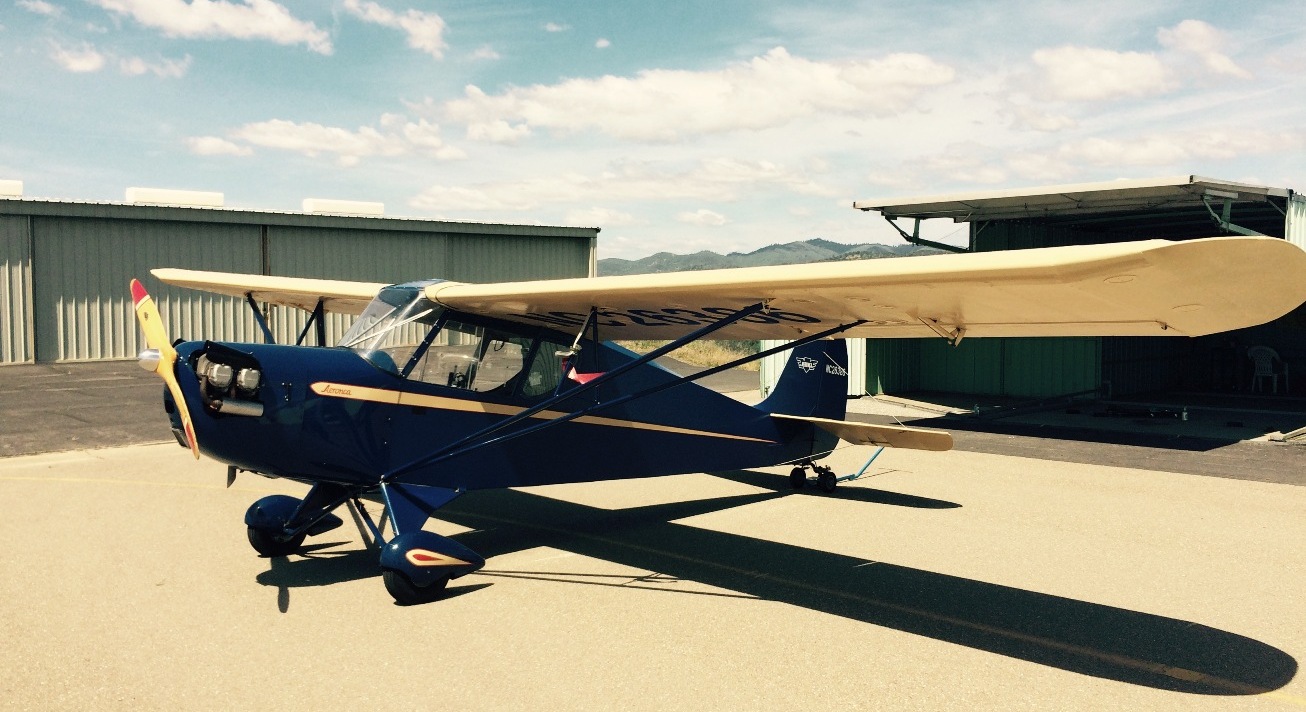 April 26, 2015. Greg Wyatt of Woodland, California sent this photo of his wife Barbara's 1940 Aeronca TC-65 Defender. It was completely restored in 2001 and is based a Calaveras County Airport - Maury Rasmussen Field in San Andreas, California. It is so nice to see such a relatively rare and beautifully restored pre-war Aeronca.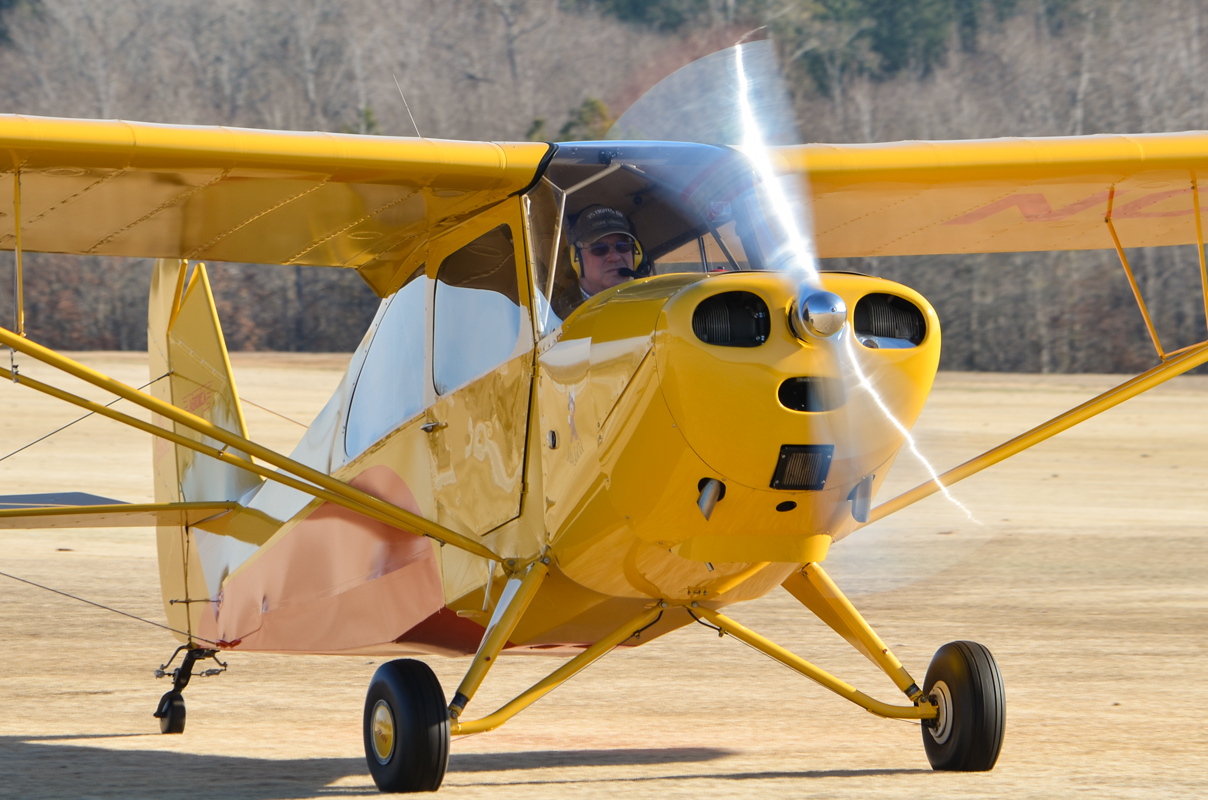 February 25, 2015. Rob Traynham of Simpsonville, South Carolina, sent this photo of his Champ, N1968E. It is a 1946 7AC upgraded to 7BCM configuration with a C-85 and metal prop but otherwise is original. It was awarded the "Outstanding Aeronca Champ" at Oshkosh in 2005 and 2006. Brandon Jewett of Brighton, Colorado did the restoration and it appeared on the cover of "Vintage Airplane" in October of 2005 in formation with Robert Baker's Grand Champion Aeronca 7AC.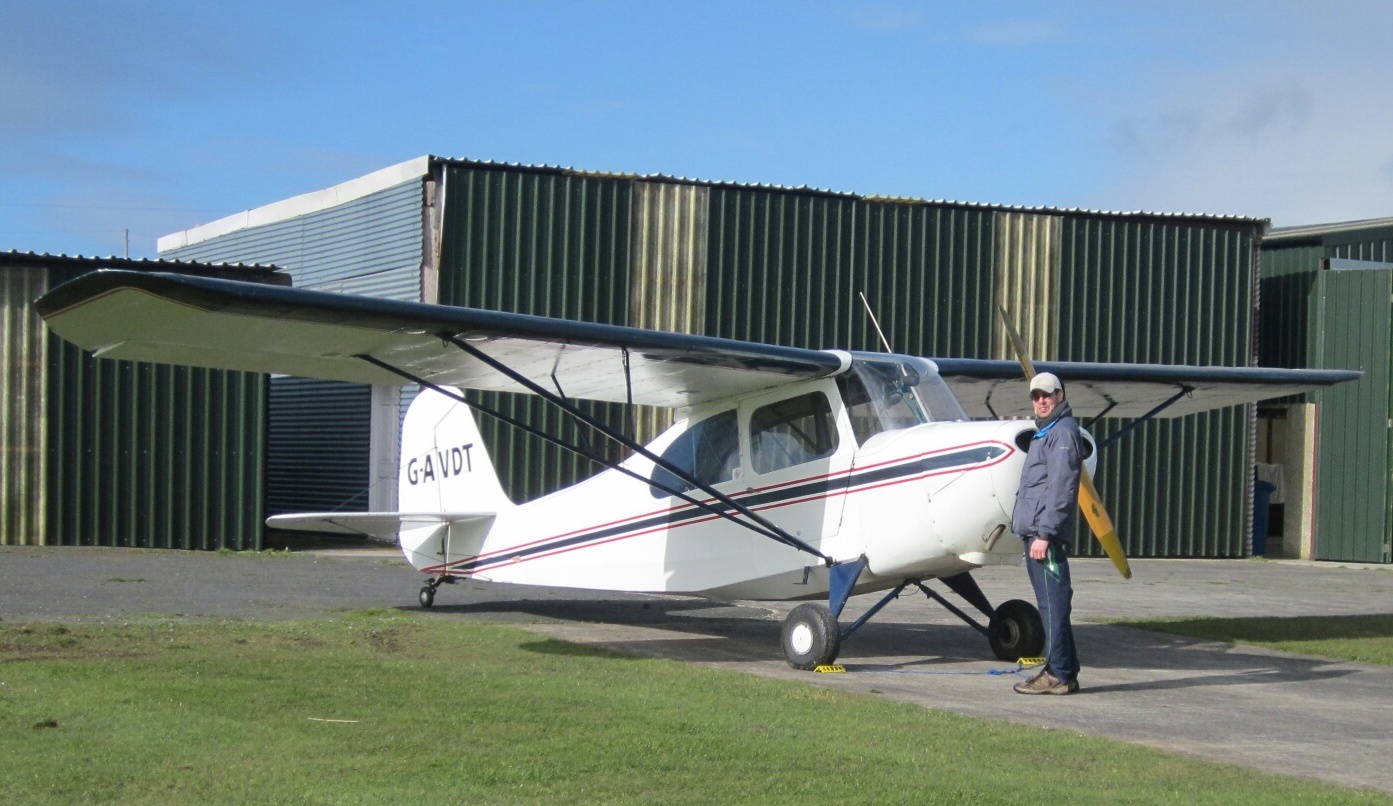 July 27, 2014. Des Cheney sent this photo of Neil Cheney and his 1947 Champion 7AC in Northern Ireland. Neil flies in the lovely Mourne Mountain area of County Down. G-AVDT, serial number 7AC-6932, is powered by a Continental A65 and does well with the gentle mountain ranges rising to 2000 feet. Des says they are restoring another Champ, G-OTOE, that should be flying soon.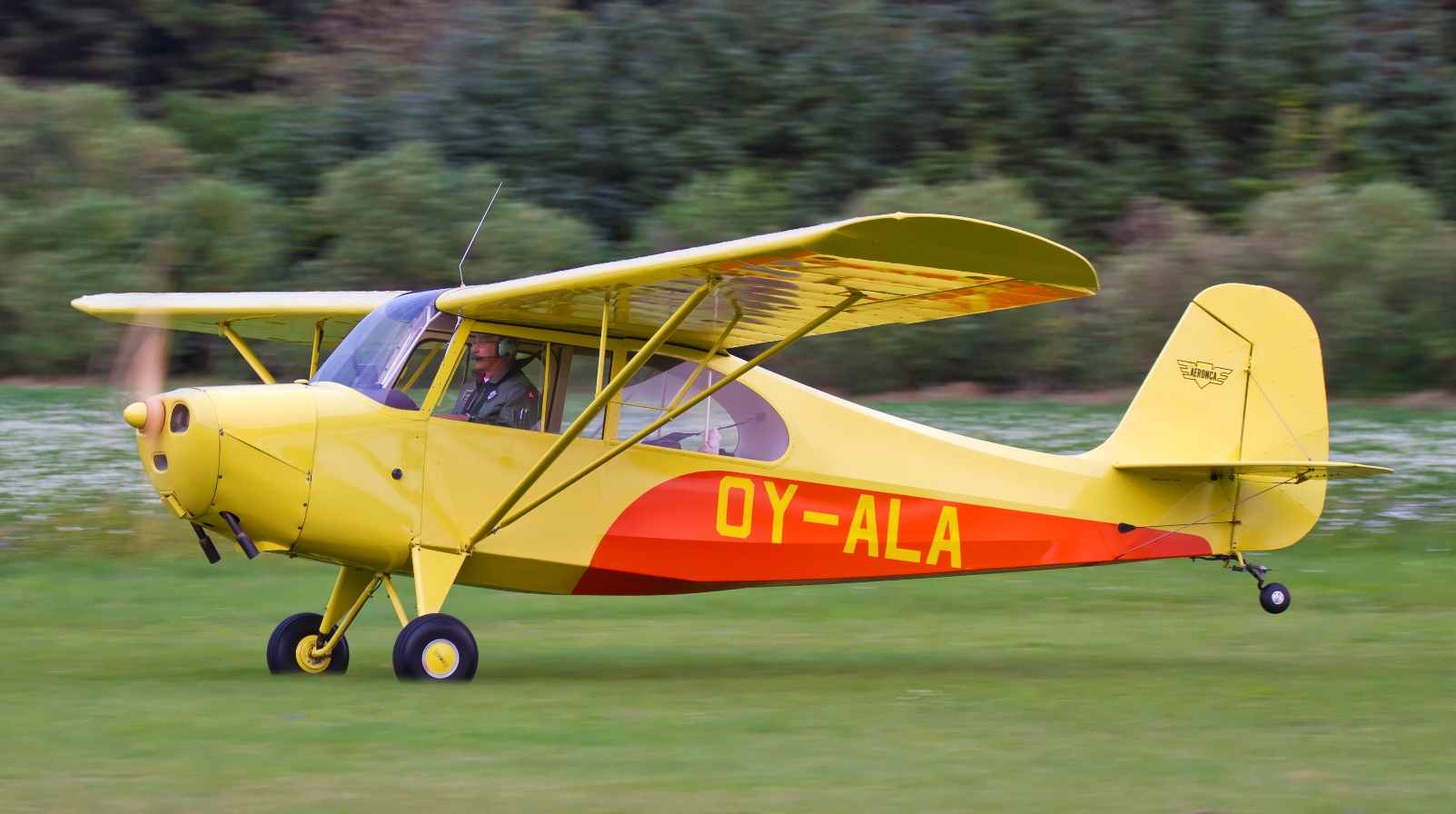 August 24, 2013. Bent Esbensen from Denmark sent this photo of his Aeronca 7AC, the only one flying in Denmark. Bent plans to put a new engine in the Champ, exchanging the A-65 for a C-90. Bent says he spent 11 years building/restoring/modifying a Piper PA-12 and now has "a new and even greater appreciation for Aeroncas! The -12 is a load hauler and an impressive performer, but the Champ is SO much nicer to fly."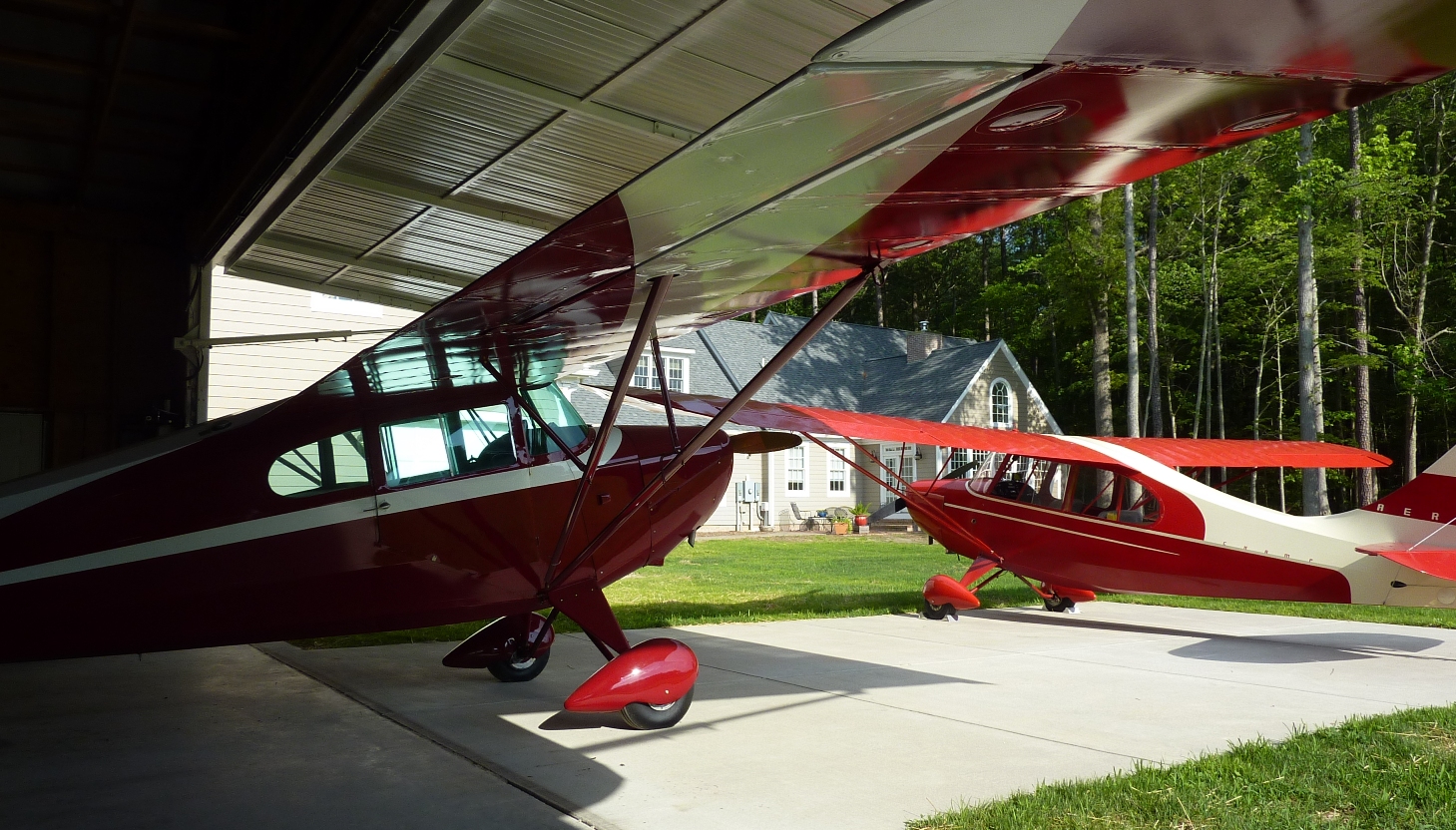 June 6, 2012. Aeronca fans are always debating the advantages of the Champ over the Chief, or the other way around. And of course, the Sedan fans get into the mix also. In reality, each model has certain advantages, depending what you like. My solution is shown in the photo above: my 65 HP Chief and my 85 HP Champ with a Sedan paint scheme. And certainly, having them in the hangar in the backyard adds to the appeal of each. The Chief has side by side seating, which I prefer when I have young children as passengers. The Champ offers more room and excellent visibility. I also like sticks and centerline seating. I never had the chance to fly a Sedan, but always thought the paint scheme on the Sedan was classy.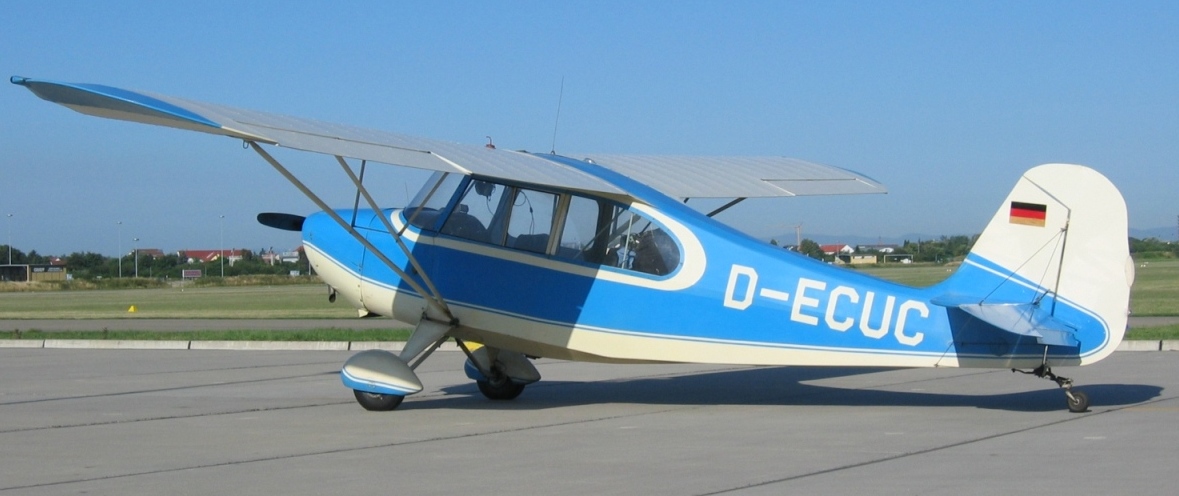 April 24, 2012. Oliver Barth from Germany sent this photo of his Aeronca 7AC Champ. The serial number is 7AC-3889. It was converted to a C-85 in the early seventies.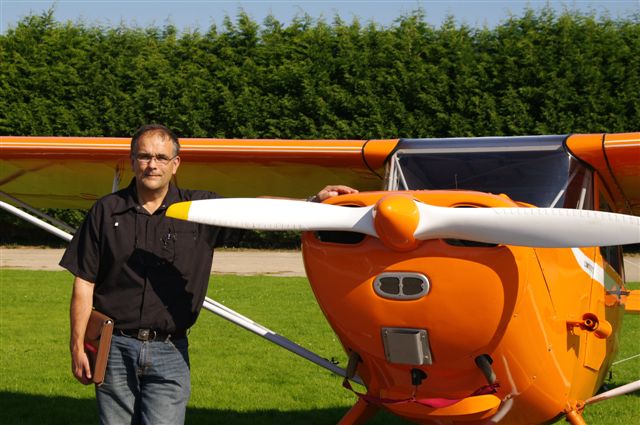 December 9, 2011. Christophe Vigreux from Normandy France sent these photos of his 1947 11AC Chief, registered as F-PACF. It was recently completely rebuilt with an onboard intercom and Icom radio powered by a 12 volt, 7 amp battery located in the baggage compartment. Notice the fine detailing on the cowl intake cover below the prop.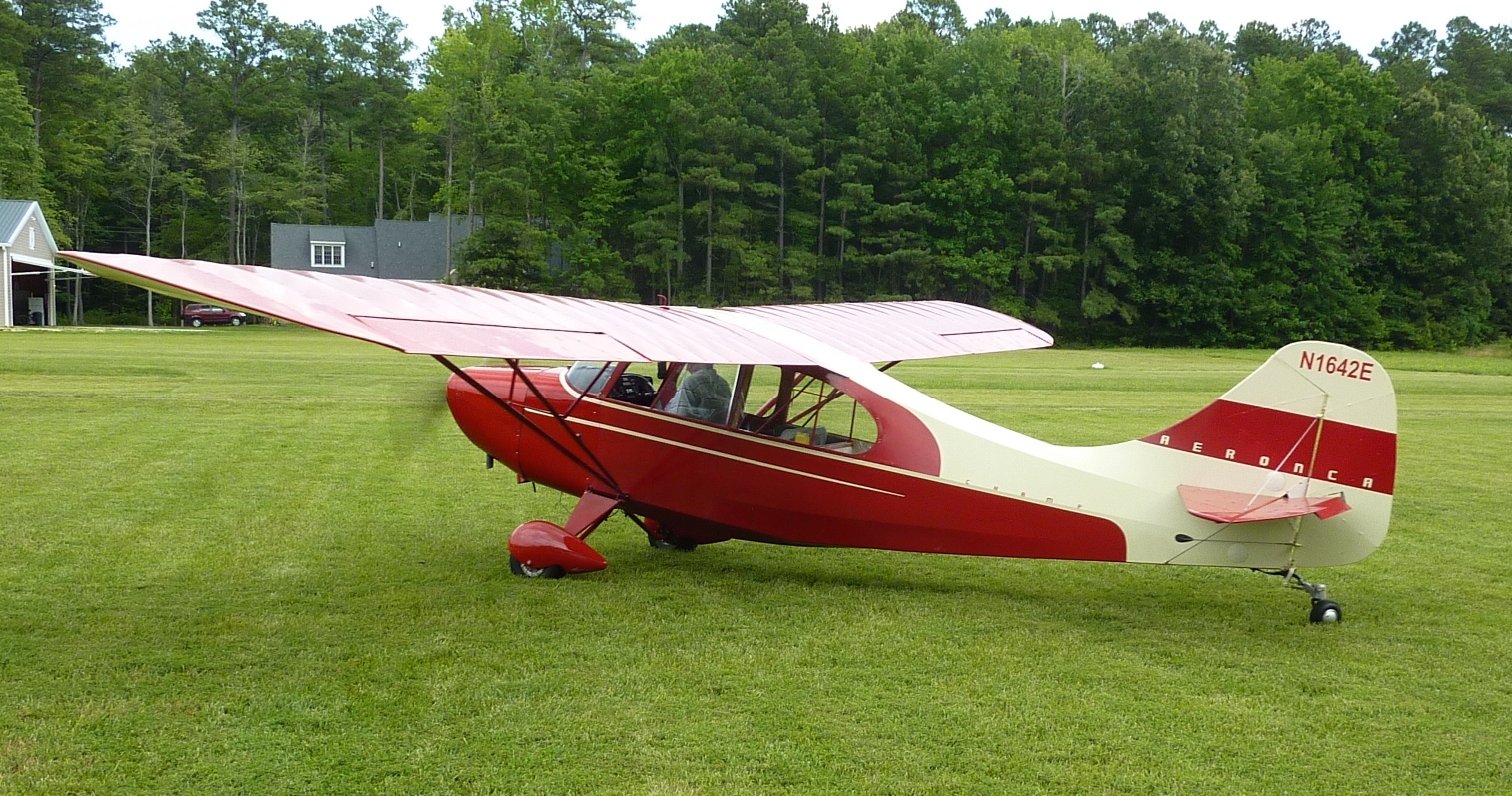 June 25, 2011. Frank Isbell visited our home airstrip in his beautiful 7AC Champ. N1642E features an 85 HP Continental and electric starter. I convinced Frank to sell this to me in April, 2012.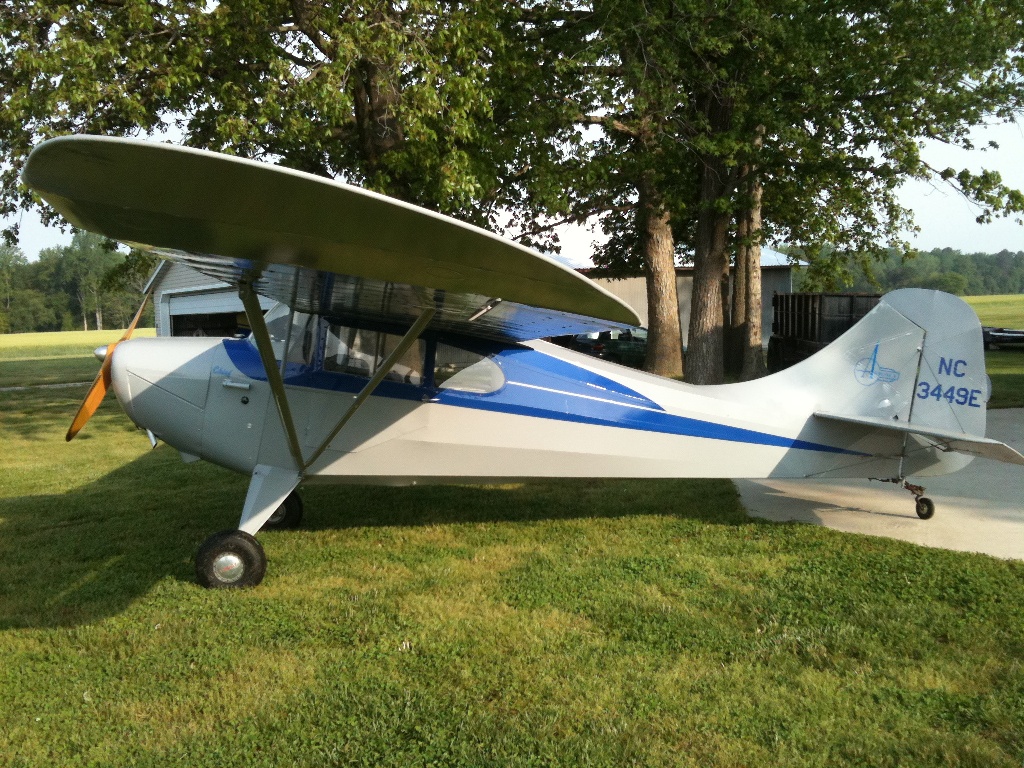 May 16, 2011. Chris Connor from Greenwood, DE, sent this photo of his pretty 11AC Chief. He bought it in 2005, flew it about 200 hours, then took it apart in August '08. He finished the project in 2010, with help from Tony Markl (fabric) and Dan O'Donnell (paint). Chris did the rest, including assembly, himself. He has flown it about 60 hours since the restoration. Though it has the large dorsal fin, 49E still has the original A-65-8F. Chris is based at Sugar Hill Airport in Greenwood (DE17).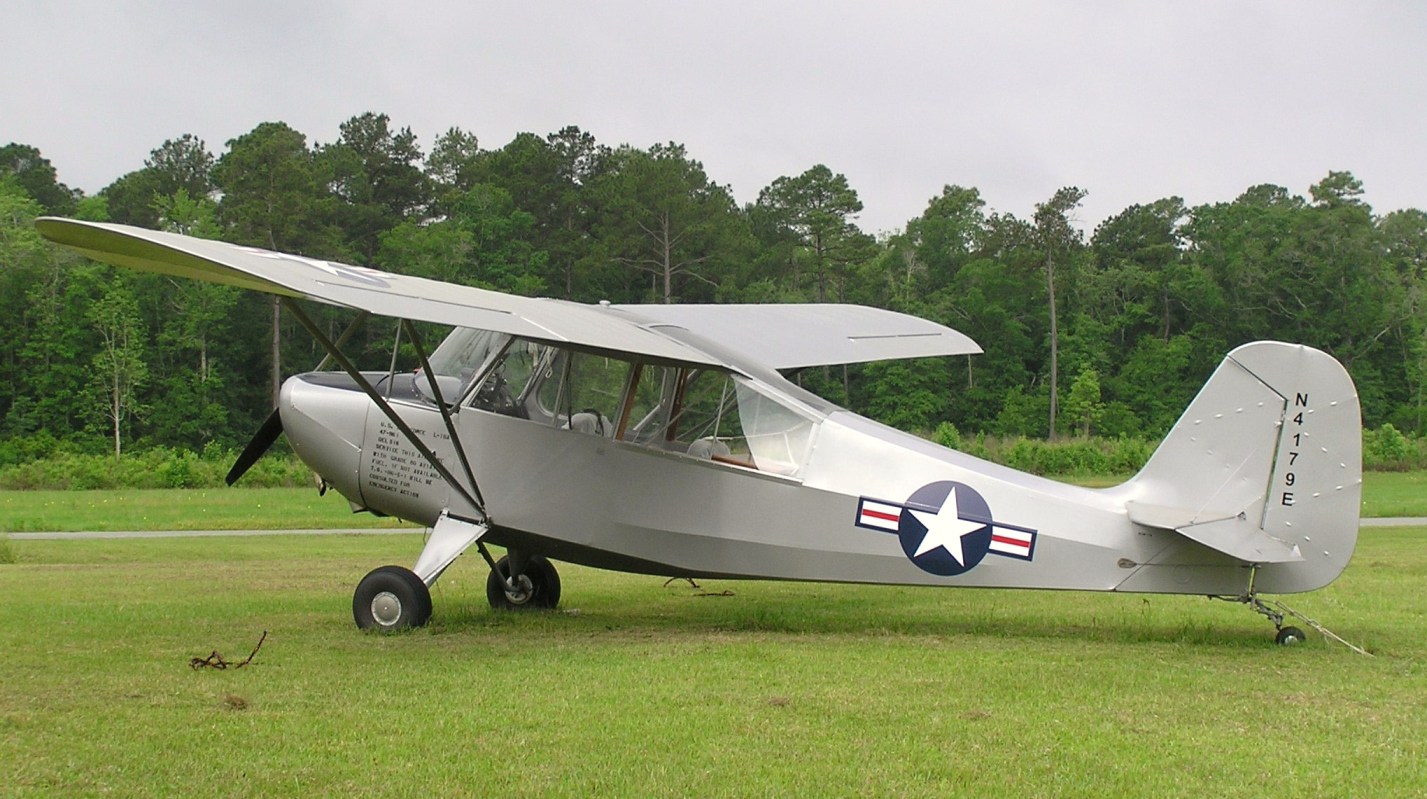 May 10, 2010. Henry Wortman of Quitman, Georgia sent this photo of his recently restored Aeronca 7BCM, finished as an L-16. The 7BCM features an 85HP Continental.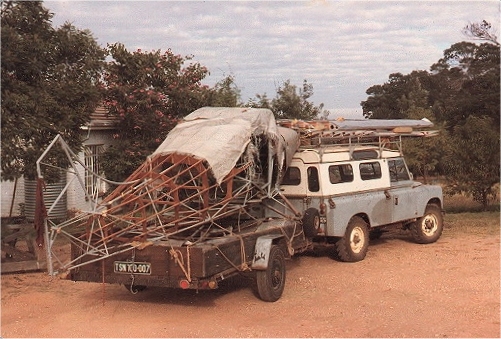 December 7, 2009. Ian Harvie of New South Wales, Australia, sent these three photos of his Aeronca Chief. The first photo above is the "before shot" of Ian Harvie's Chief Project arriving at his (then) home in South Africa, 1981.
Ian sent this note: "Here are a couple of shots of my Chief. One was taken at Echuca where I won Reserve Grand Champion at our annual AAAA fly in convention April 25 2009. The other is taken at a 110000 acre sheep station just South of Broken Hill in Western New South Wales October 4 2009. (No airfields in the outback) That was during the annual AAAA "Auster Rally" at Broken Hill where I won "Best aircraft on the field-non Auster". Not one to rush things, Ian spent 28 years restoring his Chief and flew it for the first time in March of this year, 40 years after it last flew. Of course, there were a few other projects along the way, including an Auster he restored for a friend. VH-IDH is a 11AC that was converted to a 11BC with the installation of a Continental C-85 in 1954. It was exported to South Africa in 1947 and was owned by a farmer who used it for personal transportation until 1969. Some time in the 1970's it was purchased by a bank manager who did some work on the plane, but never flew it. Ian Harvie bought the project in 1981, and took it to Australia in 1984. Notice the unusual split fiberglass cowling. The cowl latches are from a Stinson.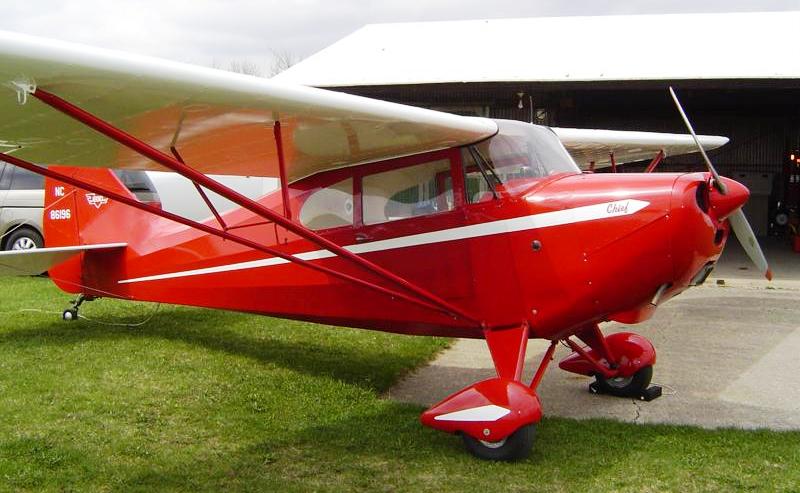 November 25, 2009. Rick Hadley sent this photo of his 11AC Chief, NC86196. Rick says his 11AC is a "near twin" to my N86176. Rick's Chief was test flown on 8/30/46, just two days after my N86176 received its airworthiness certificate. Of even greater coincidence, NC86196 was first registered with the CAA on September 6, 1946, the day Rick was born.
November 29, 2009. Rob Weil sent this photo of his just-purchased 11AC. Rob shares ownership with his father-in-law. The plane is very original and has the "faux wood" panel. Rob has the original wheel pants that he plans to install. The Chief is now based at Sandy Creek Air Park in Panama City, Florida.

For more photos, go the the Aeronca Photo Gallery - Archives 2000-2008.